Ekalrepip Days have always been held the first weekend AFTER the first full moon in July. Folklore states that's when the fishing at Piper Lake is the best.
Piper Lake has been the site for a fishing tournament for more years than anyone can remember, but the name Ekalrepip didn't come into existence until the late 1950s. To advertise its tournament, the town had made huge cloth signs that were strung across the streets just as you drove onto the square in the center of town.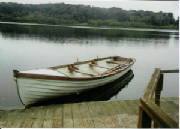 One day (and who remembers exactly when?) a young boy turned after walking past the signs and, because they were painted only on the one side, read the word backwards, asking "What does Ekalrepip mean?" Well, the name stuck and the town began using it to advertise their special tournament.
Over the years, Ekalrepip Days has expanded from "just" a fishing tournament to a weekend full of fun for the entire family.